Dear course participant,
the CRAFTA-Online-course is accordingly to the themes of the presence modules divided into three parts. It supports with pictures, exercise movies and fotos to acquire the necessary knowledge for your practical work.
It offers you:
82 Videos and lots of pictures for the assessment protocol and treatment
Detailed pictures in anatomy and physiology
Three detailed cases with treatment protocol
Various exercise questions
Visit these three course parts as often as you like. They will be available for you during the advanced training for 24 months.
We wish you success!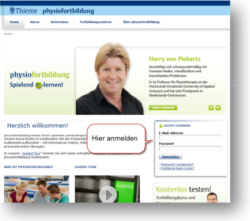 Step by step introduction: Hoe do I get my online-course?
1. For access to your online-course you will receive an E-Mail with the Code and a link to the page. The E-Mail will be sent to the address, which you gave the institute.
2. Please follow the link and enter the booking code in the field. After registration you will receive an E-mail with a confirmation link.
3. Please follow this link to complete registration.
4. After registration you may login on the homepage of "physiofortbildung". After successful login the Online-CRAFTA-Basic-course will be available for you. www.physiofortbildung.thieme.de
Note:
To receive the best quality, we recommend the Internet Browser Firefox.
Follow the link for free download: https://www.mozilla.org