Sabine Klingenspor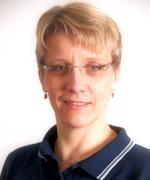 TEACHER in training - Sabine Klingenspor graduated from physiotherapy school in 1994 in Berlin.From 1994 until 2000 she worked in a rehabilitation center for orthopedic patients in Regensburg/Bavaria. During this time she absolved her manual therapy certificate education (IFK, Soltau), and attended at courses of the IAOM (International Academy for Orthopedic Medicine). She is certified IAOM-therapist since 1998.
She participated in courses of the McKenzie-Institute, Germany, and visceral osteopathy.From 1998-2000 she attended a further qualification in equine osteopathy in Duelmen (DIPO) and graduated with certificate in 2000. Since then she works as equine osteopath.
Additionally, she works since 2000 in a practice in Seevetal-Hittfeld. Here she exclusively treats patients with common orthopedic complaints and her focus is on patients with temporomandibular-, head-, face and neck pain patients. From 2003 until 2006 she absolved her IFOMPT-OMT education (DFOMT). Afterwards she studied "Musculoskeletal Physiotherapy – OMT" in Krems/Austria. She wrote her Thesis about "Reliability and validity of the SI joint play test in comparison to the ASLR-Test in women with Pelvic Girdle Pain after pregnancy."
Since 2010 she is in training as manual therapy instructor and leads courses for Mentored Clinical Practice for DFOMT. In 2009 she started her CRAFTA® education and finished with certificate in 2012.