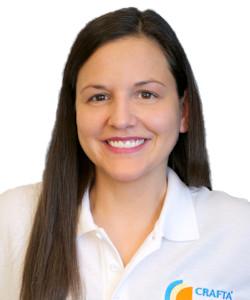 BACKOFFICE - Valentina Timpe is our back office employee. After completing her studies in business law (LL.B.) at the HTWG in Konstanz in 2014, she worked for the Lake Constance district in project management from 2014 to 2019. In 2020, she moved to Hamburg, where she has been working for the Free and Hanseatic City of Hamburg in resource management since
July 2020.
Since November 2020, she has been part of the Crafta team in the backoffice. Her main tasks include answering general questions about Crafta courses, managing course data, maintaining the therapist list, handling other administrative tasks, and supporting special tasks and events that arise.
In her freetime, Valentina can be found jogging around the alster with Timo.