Carlotta Viti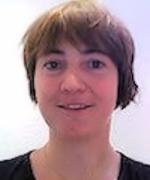 TEACHER in training - Carlotta Viti graduated in 1991 in foreign languages and literature at the International Languages Institute, Bologna. She studied physiotherapy at the University of Modena where in 1999 she obtained her degree in Physiotherapy (110/110). Her thesis focused on the "use of different kinds of splint in hand therapy after surgery" at the University of Modena under the supervision of G. Urso, Milano. Successively she gathered professional experience in Hand Centers across the USA, particularly in Philadelphia with Dr. Ostermann and also back in Italy she went on collaborating with G. Urso.
In 2001, she started opening up to the Manual Therapy world, applied most of all to postural problems and spine dysfunctions collaborating with C.Vanti, Bologna. Since in 2002 she started acting as interpreter in Manual Therapy courses e.g. P. van Wijmen and H. von Piekartz. In 2003, she started exploring her interest in spine-atm connections attending several courses with R. Strobbe, M. Rocabado and H. von Piekartz. She started collaborations with dentists in Bologna until in January 2008, she participated to the birth of a cervical-cranium dysfunction study and care group where she still works as a PT, in a team with a dentist, otorhinolaryngologist, oculist and neurologist.
In 2005, she also participated to start a Manual Therapy Research Group; in the same year she had her first experiences as a teaching-assistant with C. Vanti for SIRI on "Integrated Rehabilitation in Low Back Pain and Dysfunctions" as well as with G. Urso at the Manual Therapy Master of Padova University on "Upper Limb Dysfunctions". In 2006, she became an assistant for H. von Piekartz for his CRAFTA® courses in Italy. Since 2007, she holds a position as a contract-lecturer at the Manual Therapy Master of Padova University. Since 2008, she is part of the Hand Surgery & Rehabilitation group for the Italian Institute of Hand Surgery, headed by Prof. Dr. M. Lanzetta.
During the years, she dedicated a lot of energy in understanding human relations, especially within help, care and therapy: she took several courses and studied a lot on the experience of pain, social diseases, mind and body experiences connections, migrations and their consequences in mind and body health, cultural differences in body and pain perception. She completed a Master in "Contact Policies and Cultural Mediation" at the Anthropology Dep. of Rome University and a Specialization School of CESTAS in "International Cooperation". She participated in conferences and courses on Physiotherapy in third world countries and in Health and Social Cooperation Projects with several NGOs. In 2005 she started, together with some colleagues from the masters program, her own association Sconfine. It concluded a project in Rwanda about social integration of disabled people and is planning a new Project in the Bologna Region.
Selection of special qualifications: RPG, McKenzie, Maitland, NOI, Kinetic Control, Performance Stability, Clinical Reasoning, EBP, Diagnosis e Dreatment of Musculoskeletal System, CRAFTA®.
<p><a href="https://crafta.org/page/our-team-page" class="btn btn-primary">Back</a></p>