Heidi Groß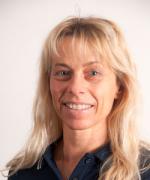 TEACHER - Heidi Groß qualified as a physiotherapist in 1995. Since 2000 she works self-employed in a practice Cooperation in Saarlouis (Saarland, Germany). She works focused on headache- and mandibular patients since 1999. Since 2004 she is qualified CRAFTA®-therapist.
Her main interest is in treating headache-, nausea- and neck patients. From 2005 she participated in a DVMT-OMT (Maitland®-Concept) postgraduate training and graduated in 2007. Since then she leads a regional group for DVMT. In her OMT thesis she examined the correlation of the upper cervical spine and the masticatory system.
In the CRAFTA® Organization she is official teacher.