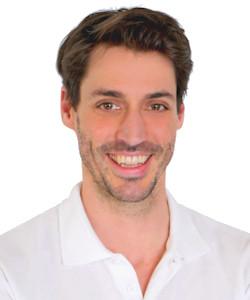 TEACHER in training - Bernhard Taxer completed his training as a physiotherapist from 2002 to 2005 at the Academy for Physiotherapy in Innsbruck / Austria and then worked for 3 years at the University Clinic for Psychiatry in Innsbruck. After moving from Innsbruck to Graz, he headed the physiotherapy team at the Lassnitzhöhe Rehabilitation Clinic, specializing in orthopedics and neurology, for almost three years. At this point in time there was already increasing interest in the treatment of persistent pain syndromes, especially the craniofacial region.

Bernhard has been a full-time lecturer at the JOANNEUM University of Applied Sciences in Graz since 2011. In addition to a short professional excursion to the Graz Accident Hospital (maternity leave substitute), Bernhard has been working in a group practice for several years, mainly with pain patients, in addition to teaching in manual therapy. In the course of the last 16 years, Bernhard completed several manual therapeutic concepts (including Maitland) and also completed his master's degree in musculoskeletal physiotherapy and his OMT diploma at Danube University Krems in 2013.

In addition to the professional activity, the professional policy work in the Austrian professional association physioaustria is essential, above all quality assurance in the context of pain care and further training. In February 2017, the CRAFTA training was completed with the certificate exam and he was accepted into the CRAFTA family as an assistant.