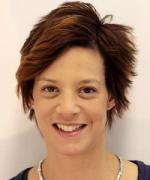 TEACHER in training - Erin Cox, physiotherapist, CCTT, CRAFTA® certified, FCAMPT, Dry Needling (Quebec certified)
Originally from Winnipeg, Canada Erin graduated from the University of Manitoba, School of Medical Rehabilitation in Physical Therapy in 1995 winning the Marie-Claude Saumure Memorial Award.
Her passion for learning extends into her passion for treating and teaching. Erin believes we can all become better my sharing and listening. She started teaching Manual Therapy courses with Québec's Orthopaedic Division (l'AQPMA) in 2009. She is a Senior Instructor for Level's 1 and 2 in both French and English, as well as a Co-Instructor in Level 3 of the Advanced Integrated Musculoskeletal Physiotherapy Program (AIMS) with the Canadian Physiotherapy Association, Orthopaedic Division. She has also been teaching the AIMS program for the KPTEN organization which has her travelling to teach in France several times per year. Erin began developing her expertise in TMJ, headaches and orofacial pain in 1994 and she developed the first headache lecture for the Graduate Certificate in Chronic Pain Management on-line course at McGill University which she still updates on an as needed basis. Erin has been a guest lecturer for McGill University Faculty of Dentistry, Orofacial Pain Course since the 2014-2015 academic year. Erin successfully passed the final exam with CRAFTA in May 2016, and has been an assistant teacher with CRAFTA giving courses in Canada.
Erin has been a conference presenter on many an occasion including: University of McGill Dental Symposium; la Société Dentaire de Laval; la Société Québécoise de la douleur chronique; Canadian Academy of Restorative Dentistry and Prosthodontics (CARDP).
Not only does Erin believe in imparting knowledge to others but she also strongly believes in continuing her own education. Erin is certified in Dry Needling. She has also taken courses from leading researchers around the world including Shirley Sahrmann, Lorimer Moseley, Sean Gibbons, Diane Lee, Andre Vleeming, Paul Hodges and Harry von Piekartz.
Erin worked at the McGill Sport Medicine clinic for 14 years working with high level athletes. She now owns two clinical practices, Kinatex Sports Physio Laval and Kinatex Sports Physio Ste-Rose in Laval, Quebec which is just north of Montreal, Canada.
Related