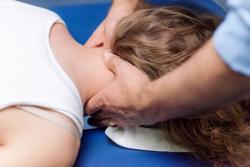 FOR EARNING YOUR CRAFTA® CERTIFICATE IN A FAST AND MORE APPROPRIATE WAY
ONLINE ASSESSMENT OF YOUR CLINICAL REASONING APPROACH AND KNOWLEDGE
THE CRAFTA® Clinical Assessment (CCA)
This part of the CRAFTA® concept is about practicing and deepening your clinical reasoning knowledge in the domain of neuromusculoskeletal assessment and treatment in the head-face and neck region.
You will be individually monitored in the assessment and treatment of patients with (complicated) head, neck and face pain.
You will get a digital assignment/Clinical Reasoning Form (CRF). This CRF contains questions to be answered and should express an individual overview of your reflection of the chosen patient.
After evaluation by the examiners of the CRF you will get a virtual appointment of 60-90 minutes.
During this virtual appointment the presented patient examination and treatment strategies together with the CRF will be discussed. Additionally, some techniques will be examined and discussed.
Within 7 days of the CCA you will be sent the content of your final evaluation with the amount of points that will be added to your portfolio.
Requirements:
You have completed the Foundations course and have taken at least 1 week of the Advanced course.
This Online course is also a great opportunity for certified CRAFTA®-Therapists, who want to check their clinical knowledge. Further, you can receive credit points for the CRAFTA® accreditation.
FAQ
This course ..
Is approved as practical course and the participant receives points, which are required for the CRAFTA® certification.
Is also for certified CRAFTA®-Therapists, they will earn 25 credit points for the CRAFTA® accreditation, if they pass the CCA.
For more information please contact our office under @